Installation guide for WPC Door frames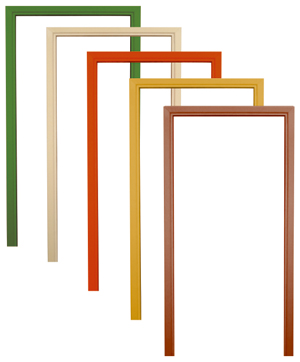 DOOR FRAME
This is a unique replacement of very much conventional 'Indian Chaukhat', which is usually prepared with series of operations from a wooden plank like cutting, sizing, trimming, grooving and polishing. That creates wood waste at last and goes for burning finally.

WPC Door frames are made with PVC based Wood polymer composite. It is generally structured with solid extrusion and in more than 700 Kg/Cubic meter density. It is available in standard ready to fix formats of 3 inch x 2 inch, 4 inch x 2 inch, 5 inch x 2.5 inch. We supply in double rebate format also.


Fixing Method 1 :
WPC Door frames can be fixed like a modular furniture unit. It can be fixed on the well finished wall with 50 mm long screw with PVC grip. The screw head visible can be covered with self-adhesive screw cover caps from Rehau or similar manufacturer. You can leave frame without paint also in this case.


Fixing Method 2 :
This can be used with conventional method, similar for wooden Chaukhat. Metal Anchors fixed with screws to the frame outer side will have another end into the cemented wall. You can tell it anchor faster fixing. Here you need to paint the frame as it may have cement particles on surface.